Virginia
You're listening to Burnt Toast! This is the podcast about diet culture, anti-fat bias parenting and health. I'm Virginia Sole-Smith.
Corinne
And I'm Corinne Fay. I work on Burnt Toast and run SellTradePlus, an Instagram account where you can buy and sell plus sized clothing.
Virginia
And it's time for your November Indulgence Gospel!
This was supposed to be your October Indulgence Gospel, but we ran September in October and now, it's November. We are going to answer your questions like we do every month. We are going to get into a lot of really good fat fashion recs. We are going to talk about hair. And I've got a little divorce update at the end, if you're curious.
This is also a paywalled episode. That means to hear the whole thing you'll need to be a paid Burnt Toast subscriber. It's just $5 a month or $50 for the year. Or you can join Extra Butter for just $10 per month. You'll a monthly live Ask Me Anything chat and even more Indulgence Gospel.
Corinne
Well, I've been wanting to talk to you about pants.
Virginia
We've decided this podcast's version of talking about the weather is pants, because there is always a lot to say about pants. So you can just know that we're always going to talk about pants. You don't have to panic about whether there's going to be the pants-related content that you need in these episodes.
Corinne
Yes, and it's somewhat weather related. But we are definitely not alone in having pants problems. 
Virginia
It's a universal struggle of the Burnt Toast community.
Corinne
So here's what I'm struggling with right now. It just got cold enough to start wearing pants again, so I'm pulling my pants out of my closet. All summer I've been wearing bike shorts. And I can't figure out what the pants equivalent of bike shorts should be. It seems like it would be leggings, but it's not. 
Virginia
Why is it not? They're literally bike shorts that go down to your ankles?
Corinne
I feel like the type of shirts that I'm wearing with bike shorts are sort of fancy shirts, like a like button-up or something. And when I wear that with leggings, it just looks wrong.
Virginia
Wait, I need to stand up.
Corinne
Oh no! That's literally what you're wearing.
Virginia
For the listeners: I'm wearing a button-down shirt with leggings right now. Corinne, are you telling me I am wrong?
Corinne
I feel like it looks cool on you, but okay. To be discussed. 
The other thing is, I pulled out my jeans from last year and I don't know if over the summer jean styles changed? But now my jeans that I thought seemed cool last year don't feel cool anymore. They feel weirdly kind of too short.
Virginia
Are we finally done with bare ankles? Is the tyranny of the cropped ankle finally behind us? 
Corinne
I don't know. I don't want to do flares or JNCOs or low-rise.
Virginia
No, I'm unavailable for all of those. I know some people have sensory issues and really hate high-rise but I have the opposite sensory issue and really hate low-rise. And flares, I don't need to relive my trauma. That was a dark time for Elder Millennials. 
Corinne
Growing up in New England, no.
Virginia
Slush just dragging around all of the pavement with you, everywhere you went.
So I am wearing last year's jeans as well. 
Corinne
Virginia
The Gap ones. I did also pull out my Madewell skinny jeans. I'm a basic bitch, I don't know what to tell you, I'm still wearing skinny jeans. They still fit me. They're like leggings but they're not as comfortable as leggings. But sometimes it seems fine.
I do find myself wishing there was a category of jeans between the skinny jeans and straight leg jeans. Like straight but also not skin-tight.
Corinne
Like a tapered but baggy?
Virginia
That's sounding wrong. I don't think I want to taper exactly?
I think what happens with plus size jeans is they often continue to cut the leg wide which makes sense for lots of folks plus sized bodies but doesn't make sense for my plus sized body. I remember
bought the same pair of Gap straight leg jeans that I have, and because she is straight-sized they are just two entirely different pants. Mine are much baggier than hers.
So I would like a jean that's like a little narrower than a straight leg, but fits like a wide leg.
Corinne
Well, that's what I mean by tapered.
Virginia
I guess that's what I want. 
Corinne
I really want a pair of corduroy pants. 
Virginia
Ooh, that sounds fun.
Corinne
But it feels like all the plus size ones aren't quite what I'm looking for. They look like corduroy pants that I wore in the 2000s. Or they are elastic waist, like toddler pants. I want something that's a little more like trousers, but corduroy.
Virginia
You're not in the market for a corduroy jogger? I guess that would be a toddler vibe. I have not seen any good corduroy pants. Hopefully people will put that in the comments. Because I'm also interested. I did try the Gap ones last year and they were really bad.
Corinne
I found one good pair at Target. But they're sold out in my size, so I ordered every adjacent size to try to see. They're also only in white or pink, which feels like a lot.
Virginia
We need to get back to this legging shirt conundrum because I'm wondering if the issue is that with a bike short, you would wear a slightly shorter shirt than you would want to wear with a legging? I don't think that I would wear this button down shirt with my bike shorts. Because if the shirt is too long with bike shorts, does it look like I forgot pants? Does it look like I'm wearing a too short dress and I meant to put something underneath and I forgot?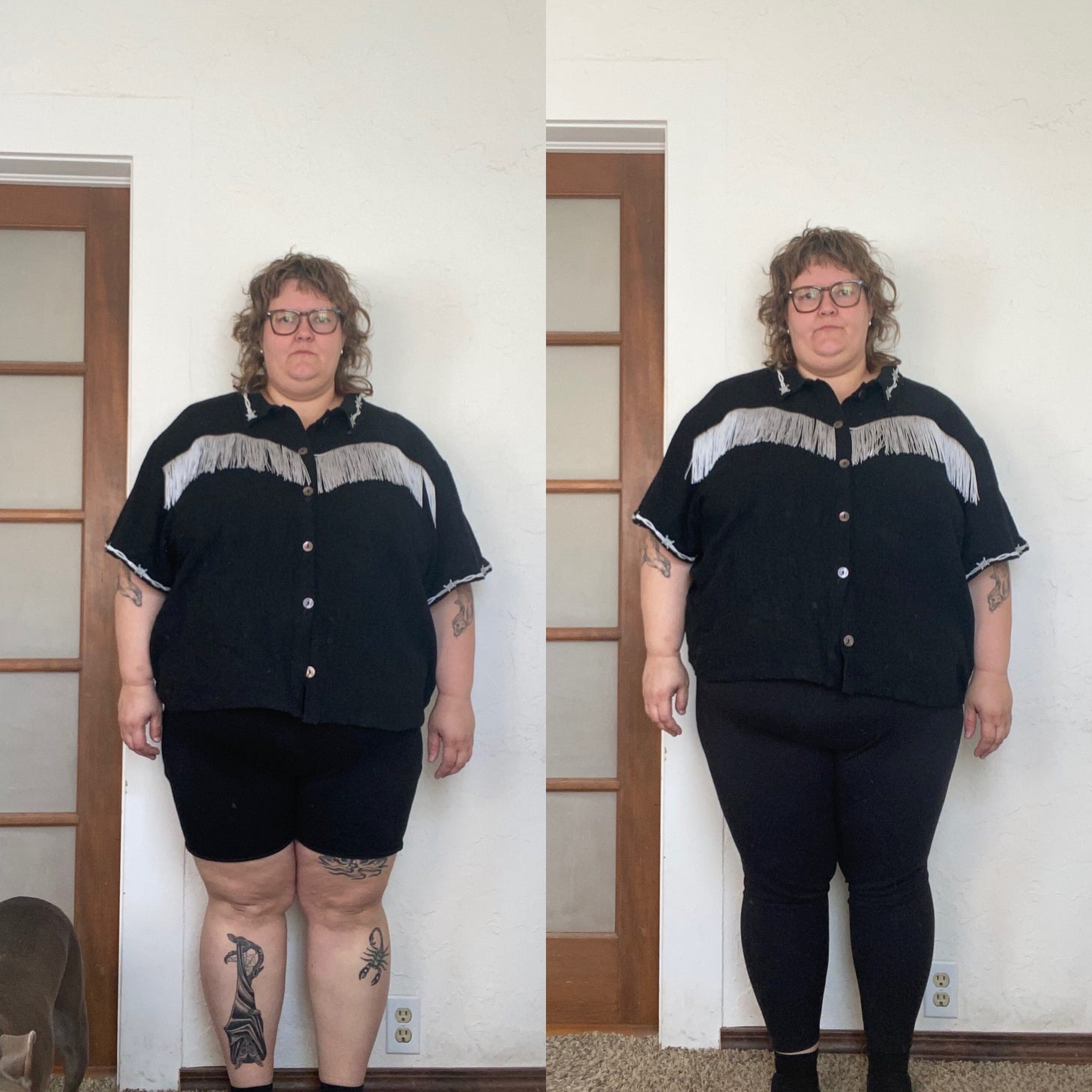 Corinne
I like that look though. 
Virginia
Well, I'm not here to style shame you. If that's your look, that's great. But I feel like one of my children would be like, "Where are your pants?" I would feel shamed by them and their superior style. But with leggings, I wear a slightly longer shirt.
Corinne
Maybe also going to the gym so much, I now feel weird wearing leggings out in the world.
Virginia
They're just such a workout vibe for you right now.
I've been living in this. I'm wearing a chambray button down shirt from Universal Standard [no link, sorry folks, it vanished!] that I have been wearing with all of my leggings and my Veja sneakers. I mean, it is very Suburban Mom. I'm not saying it's not. I feel like the fact that the sneakers are a cool brand helps a little. And I've got a bright pink sports bra on underneath, so that's kind of fun.
But on Friday, I was going to dinner my cousin's and I was texting my sister, like, "I'm having hard time deciding what to wear." I was exactly what I'm wearing right now. Leggings, sneakers, button down shirt. And I was like, "But should I dress it up for dinner?" Sometimes I don't know how dressed up I need to be to go eat dinner in someones house. We're not going to a restaurant. So we were texting, and then I ended up switching and I sent her a picture because I switched to black leggings and a linen button down shirt. And I was like, it's the same outfit, but it's different colors.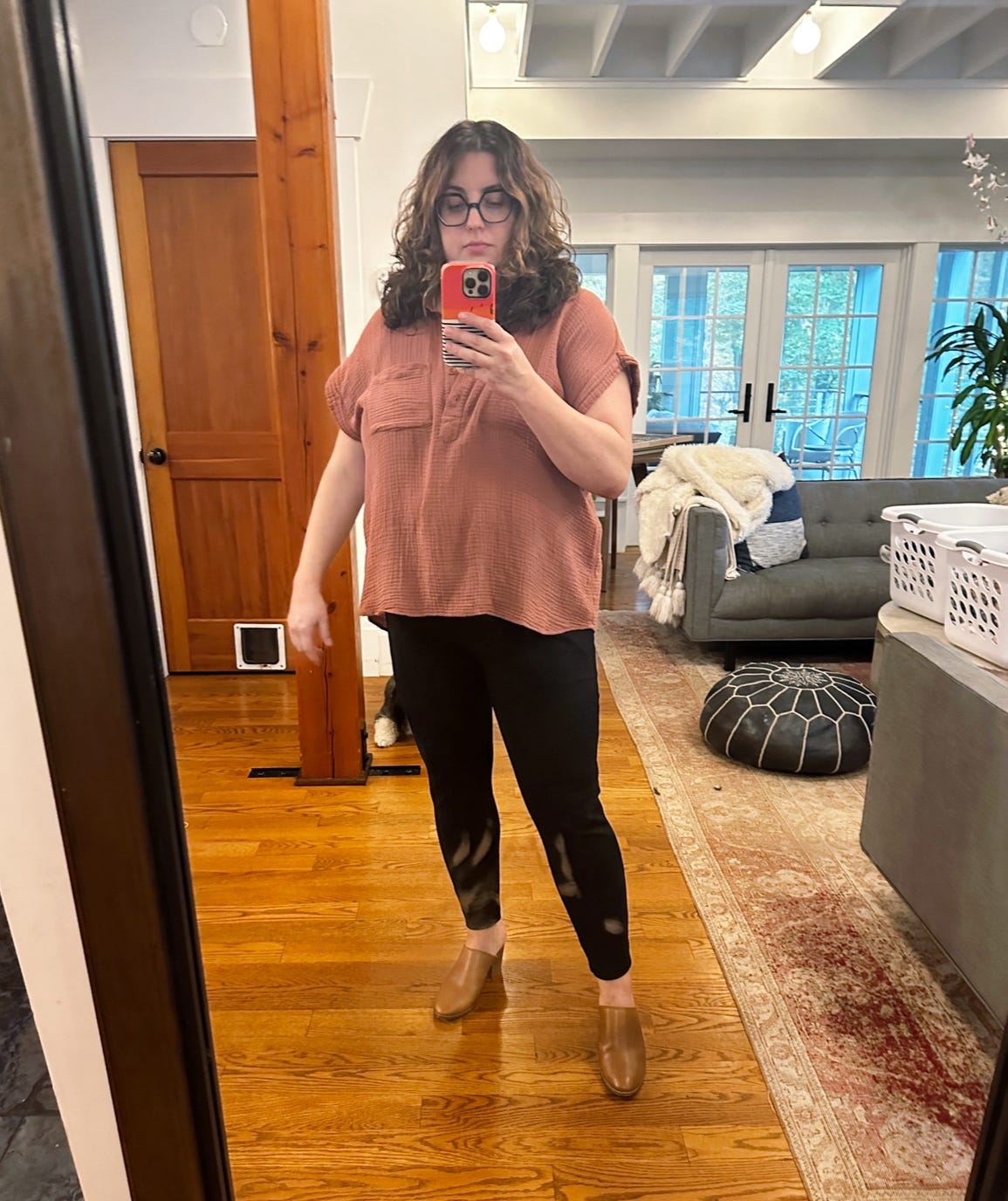 Corinne
So much fancier. 
Virginia
The dressy leggings and shirt combo. Maybe my new uniform? I don't know.
Corinne
I mean, it's a good uniform.
Virginia
I am who I am. I'm here drinking my tea in my East Fork mug and my chambray shirt. I'm a coastal grandma just trying to get through the day and it is what it is.
But I do hear you, I feel like it's like the fanciness of the button down shirt. It does need to be a casual shirt with leggings.
Corinne
Yeah. And you have to like, get the proportions right. I don't know. I'm going to have to experiment. Also, are you wearing socks with your sneakers, if you're wearing leggings?
Virginia
Not yet, because it hasn't cooled enough here. Probably once it's cold enough to require socks I will switch to ankle boots with my leggings.
Corinne
Okay. Because I feel like sometimes the sneakers, socks, legging thing gets weird.
Virginia
It gets complicated. If I'm going to be walking a lot, my feet get sweaty. So I wear the no show socks. But my Target clog boots will come out soon, or another kind of ankle boot. 
All right. I think that's all our pants news! 
I have one other quick update from a past podcast. This was two Indulgence Gospels ago. I was mentioning that I wasn't wearing my favorite Universal Standard jersey dress and other things because of the oil stain right in the middle of your boobs. We talked about how that's a common struggle. People had so many thoughts about stain removal, which I really appreciated. And I tried several methods and the combination that got all the stains out of that dress—which I thought was history, like it had been through the dryer, it was done for—was this product called Puracy, which is this foaming stain remover thing that I put on and let it sit for like a day or two. Then right before I washed it, I put on a dab of Dawn dish soap. And that combination has brought back a lot of my t-shirts and sweatshirt type things from the dead.
Corinne
That's really cool. I'm going to try that because I have the same problem. 
Virginia
I think Dawn by itself for a less set in stain will totally do the job. But for this, like had been through the dryer, like I thought it was baked-in forever. This worked.
Corinne
One other thing that has happened since the last time we talked is that I got the updated COVID vaccine. And as everyone on the internet was talking about, people who weigh over 200 pounds are supposed to get a bigger needle. So when I went to get it, I went to a Walgreens and when I got into the little consultation room, I was like, "So I heard that people that weigh over whatever are supposed to get a bigger needle," and the guy was sort of like, "Oh, yeah, I have heard that." And I was like, "Okay, so are we going to use a bigger needle?" And he was like, "Well, how big are your arms?"
I was just like, "they're really big!" What? I don't know. Like, how would you quantify that? First of all, you're looking at me! You can tell how big they are.
Virginia
It's not like you know the individual weight of one arm. 
Corinne
And yeah, just to be clear, I'm way over that weight threshold. There's not even advice for being over that. Like, it's not like "over this weight use 1.5 inch needle and then over this weight, use a 2 inch needle."
But they did have 1.5 inch needles and he did use one. When you see it, it's not even that much bigger. I was just like, oh, that's not even really making a difference, but whatever.
Virginia
But you're glad you did it. 
Corinne
It was fine.
Virginia
I'm glad you did it, too. That is absurd.
Corinne
It was so funny. Just like, have you ever talked to a person before? 
Virginia
"Sir, how often do you leave your house? Is this a new experience for you?"
Corinne
How big are your arms?
Virginia
Like, you're sitting right there with your arms.
Corinne
And they are big. You can see them. Like, I don't know.
Virginia
That's so funny and weird. Yeah, I mean, I'm sorry. That's really funny.
You and I texted about this before I got my COVID booster, and I also went to a Walgreens. And even though I made an appointment, I ended up waiting for 45 minutes. So by the time I got in there, I was so over the whole experience I completely forgot to ask. So I just got the regular needle. And who knows? Who knows whether that is going to be okay or not. I rolled some dice. I literally got back in my car was like, fuck! But I was not about to go back and be like, "Can I have another one with the bigger needle just in case it didn't work?"
Alright. Let's get into some questions. Do you want to read the first one?
Corinne
Q: But what if I really have to stop eating certain foods for my health?
I've been staunchly anti-diet for several years now. Earlier this year, I was diagnosed with a condition and was told changing my diet could help keep it from progressing. I spiraled because I've been taught to believe that any diet change is just bullshit anti-fatness, and doctors don't know what they're talking about. But I'm coming to realize sometimes that's true, and sometimes it's not. I haven't made diet changes yet and my condition has worsened, despite other measures. I'm considering small changes to see what happens.
I feel like there's no nuance in this space. Yes, you can be Healthy At Every Size, but what if you aren't and food is part of the treatment? I now feel like I'm deconstructing both diet culture and anti-diet culture to figure out what's going to help me. It's hard and scary and I wish this was something that was discussed in these spaces. Not every piece of nutrition advice is bullshit. How do we bring more nuance to the space?
Virginia
Okay, free list this is where we leave you! To hear our response to this plus so much more fat fashion talk, fat hair, fat friends, lots of good stats, of course our Butters, you will need to be a paid subscriber.